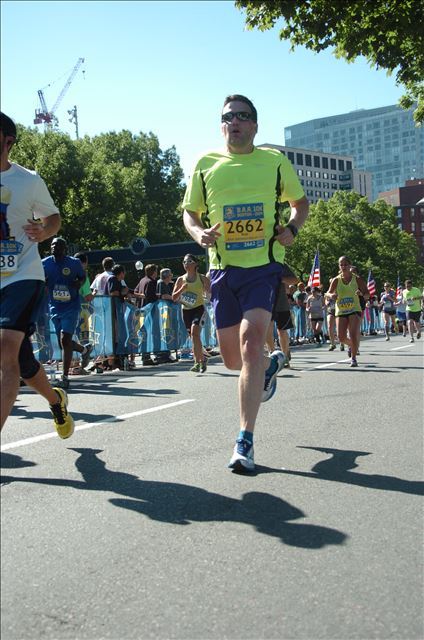 I've leaked this news already, but this is the official announcement. I'm running the 2016 Boston Marathon. I'll be raising money to support MassBike. This is an incredible opportunity for me.
For starters, I love the marathon. 2016 will be the first time I haven't been on the course as a spectator (for at least a few minutes) in probably 35 years. My regular spot on Heartbreak Hill will be empty and my annual collection of marathon photos will be focused on my own experience and not the drama that happens at the end of the Newton Hills. I've always thought about running the race and while I'm a pretty experienced runner at this point, I'm not a gazelle, so running as a charity runner was going to be my only option.
I guess I could lose 30 pounds and gain 1:30 a mile, but what's the fun in that? I'd have to stop drinking wine or something. Scary.
Secondly, and most importantly, MassBike is a charity that I already support and truly believe in, so doing this amazing thing to support a great local charity is just about perfect. As many of you know, I love cycling in all forms and believe that communities that are good for cyclists are communities that are good for everyone. MassBike is working to make Massachusetts one of those places. Considering how far we've come over the past decade it's important to keep the pressure up and finish the job of making Massachusetts the world-class cycling community it can be. Supporting me in my journey and donating to MassBike helps make that happen.
So please support my run. I personally appreciate any help you can give and it'll help make Massachusetts a better place to live, walk and ride.
Here's some more about MassBike and the Run to Ride team:
Bicyclists and pedestrians make up 11 percent of all trips nationwide but these active modes of transportation only receive 2 percent of transportation funding. Based in Boston, which has the highest combined rates for biking and walking of any U.S. city, MassBike works year round to make your run, your walk, or your bike ride a safer and happier experience.

MassBike's Running to Ride team will fuel efforts to improve conditions for bicycling in the Bay State. Working with lawmakers, schools, police, business leaders, and municipalities, MassBike is the voice for bicyclists throughout the state. With 4,000 members and growing, MassBike helped elevate Massachusetts in national bike friendly rankings to the number four position. Our runners will help Massachusetts climb to the top spot, making us a healthier and more prosperous place to live.